Finding out about your child's vision as early as possible in life is important, because as the vision develops in the child, barriers to good vision in each eye should be removed as soon as possible. These barriers include an early cataract, although rare, or poor focusing due to an extreme far-sightedness or near- sightedness. (See sunglasses article)
Also, poorly-aligned eyes, such as crossed eyes, may prevent the full development of the child's vision.(See crossing article) I have performed over 5000 eye muscle alignment operations. (See research activity)
Below are the most common eye disoders
What is strabismus and how common is it?
Strabismus is any misalignment of the eyes. It is estimated that 4% of the U.S. population has strabismus.
Are there different types of strabismus and if so, how are they named?
There are many different types of strabismus. Strabismus is most commonly described by the direction of the eye misalignment; common types of strabismus are esotropia, exotropia, hypotropia, and hypertropia.
Strabismus can also be described by its cause. The 3 cranial nerves (III, IV, VI) responsible for eye movement can be weak or palsied and cause strabismus. Some examples of paralytic strabismus include third nerve palsy and superior oblique palsy.
Special patterns of strabismus can have unique names such as Brown syndrome, and Duane syndrome.
What are the types of horizontal strabismus?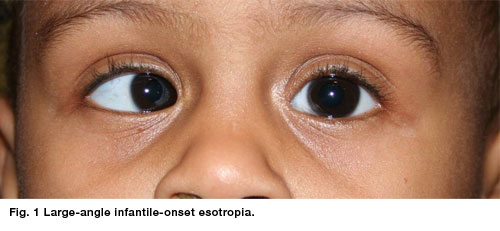 Esotropia is inward turning of the eyes (aka "crossed eyes"). Types of esotropia include infantile esotropia, accommodative esotropia, and sixth nerve palsy. Exotropia is the term used to describe outward turning of the eyes (aka "wall-eyed") [See figures 1 and 2].
What are the types of vertical strabismus?
The terms hypertropia and hypotropia are used to describe vertical misalignment. Hypertropia is an abnormal eye higher than the normal eye. Hypotropia is when the abnormal eye is lower than the normal eye. The terms can generally be interchanged.
What causes strabismus?
Most strabismus is the result of an abnormality of the poorly understood neuromuscular (including brain) control of eye movement. Less commonly, a problem with the actual eye muscle causes strabismus.
How is strabismus related to poor vision?
Eye misalignment can cause amblyopia in children. When the eyes are oriented in different directions, the brain receives 2 different visual images. The brain may ignore the image from the misaligned eye to avoid double vision, resulting in poor vision development of that eye. Also, an eye that sees poorly tends to be misaligned.
Who develops strabismus as a child?
Strabismus often occurs in children who are otherwise completely normal. However, disorders that affect the brain such as cerebral palsy, Down syndrome, hydrocephalus and brain tumor are more likely to develop strabismus.
What adult disorders cause strabismus?
Stroke is the leading cause of strabismus in adults. Trauma, neurological problems, and Graves disease (thyroid eye disorders) are other common causes of strabismus.
How does trauma cause strabismus?
Trauma can cause strabismus by 1) brain damage that impairs control of eye movement, 2) damage of the nerves that control eye movement and/or 3) damage of the eye muscles either directly or secondarily from trauma to the eye socket.
How is strabismus treated?
The goal of strabismus treatment is to improve eye alignment which allows for the eyes to better work together (binocular vision). Treatment may involve eye glasses, eye exercises, prism, and/ or eye muscle surgery. Problems associated with strabismus (including amblyopia, ptosis, and cataract) are usually treated prior to eye muscle surgery.
What is amblyopia?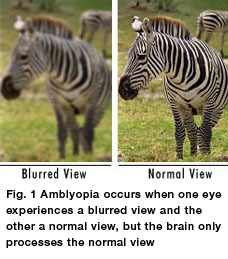 Amblyopia is decreased vision in one or both eyes due to abnormal development of vision in infancy or childhood.  In amblyopia, there may not be an obvious problem of the eye. Vision loss occurs because nerve pathways between the brain and the eye aren't properly stimulated. The brain "learns" to see only blurry images with the amblyopic eye even when glasses are used. As a result, the brain favors one eye, usually due to poor vision in the other eye. Another word for amblyopia is often "lazy eye." It is the leading cause of vision loss amongst children. [See figure 1]
What kinds of amblyopia are there?
There are several different types and causes of amblyopia: strabismic amblyopia, deprivation amblyopia, and refractive amblyopia. The end result of all forms of amblyopia is reduced vision in the affected eye(s).
What is strabismic amblyopia?
Strabismic amblyopia develops when the eyes are not straight. One eye may turn in, out, up or down. When this happens, the brain begins to ignore, or "turns off" the eye that is not straight and the vision subsequently drops in that eye.
What is deprivation amblyopia?
Deprivation amblyopia develops when cataracts or similar conditions "deprive" young children's eyes of visual experience. If not treated very early, these children never learn to see very well and can have very poor vision. Sometimes this kind of amblyopia can affect both eyes.
What is refractive amblyopia?
Refractive amblyopia happens when there is a large or unequal amount of refractive error (glasses strength) between a child's eyes. The brain learns how to see well from the eye that has less need for glasses and does NOT learn to see well from the eye that has a greater need for glasses. The vision problem may be invisible because the child does not complain of blurry vision.  The child sees well with the better seeing eye.  Additionally, the amblyopic eye may not look any different from the normal seeing eye. Therefore, parents and pediatricians may not think there is a problem because the child's eyes look normal.   For these reasons, this kind of amblyopia in children may not be found until the child has a vision test. This kind of amblyopia can affect one or both eyes and can be best helped if the problem is found early.
Will glasses help a child with amblyopia to see better?
Glasses may improve visual acuity to some degree but usually not completely. With amblyopia, the brain is "used to" seeing a blurry image and needs to learn how to see better with that eye.. With time, however, the brain may "re-learn" how to see and the vision may increase. The normal eye is treated (most often with patching or eyedrops) to make the amblyopic (weak) eye stronger.
What can be done if my child has equal high amounts of farsightedness and/or astigmatism and is diagnosed with bilateral amblyopia?
Bilateral amblyopia is usually treated with consistent, early glasses, and or contact lenses with follow-up over a long period of time. If asymmetric amblyopia (one eye better than the other) occurs, then patching or eye drops may be added.
When should amblyopia be treated?
Early treatment is always best. If necessary, children with refractive errors (nearsightedness, farsightedness or astigmatism) can wear glasses or contact lenses when they are as young as one week old. Children with cataracts or other "amblyogenic" conditions are usually treated promptly in order to minimize the development of amblyopia.
How old is TOO old for amblyopia treatment?
A recent National Institutes of Health (NIH) study confirmed that SOME improvement in vision can be attained with amblyopia therapy initiated in younger teenagers (through age 14 years). Better treatment success is achieved when treatment starts early, however.
How can I get early treatment for amblyopia?
Some forms of amblyopia, such as that associated with large-deviation strabismus, may be easily detected by parents. Other types of amblyopia (from high refractive error) might cause a child to move very close to objects or squint his or her eyes. Still other forms of amblyopia may NOT be obvious to parents and therefore must be detected by Vision Screening.
What is Vision Screening?
Vision Screening is strongly recommended by the American Academy of Pediatrics (AAP) over the course of childhood to detect amblyopia early enough to allow successful treatment. Pediatricians check newborns for red reflex to find congenital cataracts. Infants are checked for the ability to fix and follow and whether they have strabismus. Toddlers can have their pupillary red reflexes tested with a direct ophthalmoscope (Brückner Test) or by instruments that identify a significant refractive error that needs correction to prevent amblyopia. When children can consistently identify objects either by reading or by matching, the acuity of each eye (with the non-tested eye patched) is screened to identify amblyopia.
How is amblyopia treated?
One of the most important treatments of amblyopia is correcting the refractive error with consistent use of glasses and/or contact lenses. Other mainstays of amblyopia treatment are to enable as clear an image as possible (for example, by removing a cataract), and forcing the child to use the weaker eye (via patching or eye drops to blur the better-seeing eye).
When should patching be used for amblyopia treatment?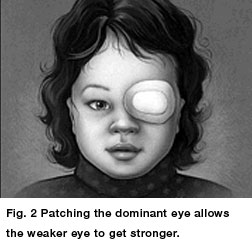 Patching should only be done if an ophthalmologist recommends it. An ophthalmologist should regularly check how the patch is affecting the child's vision. Although it can be hard to do, patching usually works very well if started early enough and if the parents and child follow the patching instructions carefully. It is important to patch the better seeing  eye to allow the weak eye to get stronger. [See figure 2]
Are there different types of patches?
The classic patch is an adhesive "Band-Aid" which is applied directly to the skin around the eye [See figure 3]. They are available in different sizes for younger and older children. For children wearing glasses, both cloth and semi-transparent stickers (Bangerter foils) may be placed over or onto the spectacles. "Pirate" patches on elastic bands are especially prone to "peeking" and are therefore only occasionally appropriate.
Is there an alternative to patching to treat amblyopia?
Sometimes the stronger (good) eye can be "penalized" or blurred to help the weaker eye get stronger. Atropine drops will temporally blur the vision in the good eye [See figure 4]. This forces the child to use the weaker eye. Ophthalmologists use this treatment instead of patching when the amblyopia is not very bad or when a child is unable to wear the patch as recommended. For mild to moderate degrees of amblyopia, studies have shown that patching or eye drops may be similarly effective. Your pediatric ophthalmologist will help you select what treatment regimen is best for your child.
Do drops work for all amblyopic children?
Not all children benefit from eye drop treatment for amblyopia. Penalizing eye drops (such as atropine) do not work as well when the stronger eye is nearsighted.
How many hours per day patching is enough when treating amblyopia?
The mainstay of treating amblyopia is patching of the dominant (good) eye, either full or part-time during waking hours. The prescribed number of hours of patching will depend on the visual acuity in the amblyopic eye and whether treatment has been successful in the past. Your doctor will prescribe the appropriate time for you.
How long does amblyopia patching therapy take to work?
Although vision improvement frequently occurs within weeks of beginning patching treatment, optimal results often take many months. Once vision has been improved, less (maintenance) patching or periodic use of atropine eyedrops may be required to keep the vision from slipping or deteriorating. This maintenance treatment may be advisable for several months to years.
During which activities should patching be performed?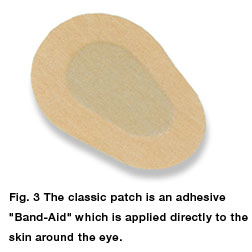 There is no particular activity that will improve the vision more than another activity. The most important part of treatment is keeping the patch on for the prescribed treatment time. As long as the child is conscious and has his or her eyes open, visual input will be processed by the amblyopic eye. On the other hand, the child may be more cooperative or more open to bargaining if patching is performed during certain, favorite activities (such as watching a preferred television program or video). Some eye doctors believe that the performance of near activities (reading, coloring, hand-held computer games) during treatment may be more stimulating to the brain and produce better or more rapid recovery of vision.
Should patching be performed during school hours?
In many instances, school is an excellent time to patch, taking advantage of a nonparental authority figure. Patching during school hours gives the class an opportunity to learn valuable lessons about accepting differences between children. While in most instances, children may not need to modify their school activities while patching, sometimes adjustments such as sitting in the front row of the classroom will be necessary. If the patient, teacher, and classmates are educated appropriately, school patching need not be a socially stigmatizing experience. On the other hand, frequently a parental or other family figure may be more vigilant in monitoring patching than is possible in the school setting. Parents should be flexible in choosing when to schedule patching.
What if my child refuses to wear the patch?
Many children will resist wearing a patch at first. Successful patching may require persistence and plenty of encouragement from family members, neighbors, teachers, etc. Children will often throw a temper-tantrum, but then they eventually learn not to remove the patch. Another way to help is to provide a reward to the child for keeping the patch on for the prescribed time period.
Can surgery be performed to treat amblyopia?
There is no surgery to improve the vision for amblyopia. Surgery can be performed to straighten misaligned eyes such as crossing. Surgery to make the eyes straight can only help enable the eyes to work together as a team. Children with strabismic amblyopia still need close monitoring and treatment for the amblyopia, and this treatment is usually performed before strabismus surgery is considered.
Children who are born with cataracts may need surgery to take out the cataracts. After surgery, the child will usually need vision correction with glasses or contact lenses and patching.
What are appropriate goals of amblyopia treatment?
|In all cases, the goal is the best possible vision in each eye. While not every child can be improved to 20/20, most can obtain a substantial improvement in vision. The earlier the treatment for amblyopia, the more successful the treatment tends to be.
What happens if amblyopia treatment does not work?
In some cases, treatment for amblyopia may not succeed in substantially improving vision. It is hard to decide to stop treatment, but sometimes it is best for both the child and the family. Children who have amblyopia in one eye and good vision only in their other eye can wear safety glasses and sports goggles to protect the normal eye from injury. As long as the good eye stays healthy, these children function normally in most aspects of society
More information about past and ongoing clinical studies regarding amblyopia can be found at the National Eye Institute web site.
Nearsightedness, or myopia, as it is medically termed, is a vision condition in which people can see close objects clearly, but objects farther away appear blurred. People with myopia can have difficulty clearly seeing a movie or TV screen or the whiteboard in school.
Myopia occurs if the eyeball is too long or the cornea (the clear front cover of the eye) is too curved. As a result, the light entering the eye isn't focused correctly, and distant objects look blurred.
Myopia affects nearly 30 percent of the U.S. population. While the exact cause of myopia is unknown, there is significant evidence that many people inherit myopia, or at least the tendency to develop myopia. If one or both parents are nearsighted, there is an increased chance their children will be nearsighted.
Even though the tendency to develop myopia may be inherited, its actual development may be affected by how a person uses his or her eyes. Individuals who spend considerable time reading, working at a computer, or doing other intense close visual work may be more likely to develop myopia.
Generally, myopia first occurs in school-age children. Because the eye continues to grow during childhood, it typically progresses until about age 20. However, myopia may also develop in adults due to visual stress or health conditions such as diabetes.
Myopia may also occur due to environmental factors or other health problems:
Some people may experience blurred distance vision only at night. With "night myopia," low light makes it difficult for the eyes to focus properly. Or the increased pupil size during dark conditions allows more peripheral, unfocused light rays to enter the eye.
People who do an excessive amount of near-vision work may experience a false or "pseudo" myopia. Their blurred distance vision is caused by overuse of the eyes' focusing mechanism. After long periods of near work, their eyes are unable to refocus to see clearly in the distance. Clear distance vision usually returns after resting the eyes. However, constant visual stress may lead to a permanent reduction in distance vision over time.
Symptoms of myopia may also be a sign of variations in blood sugar levels in people with diabetes or may be an early indication of a developing cataract.
An optometrist can determine the cause of the vision problems through a comprehensive eye exam.
How is myopia diagnosed?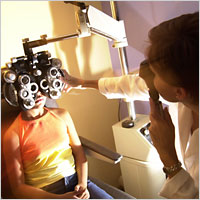 Testing for myopia may use several procedures to measure how the eyes focus light and to determine the power of any optical lenses needed to correct the reduced vision.
As part of the testing, you will identify letters on a distance chart. This test measures visual acuity, which is written as a fraction, such as 20/40. The top number of the fraction is the standard distance at which testing is performed (20 feet). The bottom number is the smallest letter size read. A person with 20/40 visual acuity would have to get within 20 feet to identify a letter that could be seen clearly at 40 feet in a "normal" eye. Normal distance visual acuity is 20/20, although many people have 20/15 (better) vision.
Using an instrument called a phoropter, an optometrist places a series of lenses in front of your eyes and measures how they focus light using a handheld lighted instrument called a retinoscope. Or the doctor may choose to use an automated instrument that evaluates the focusing power of the eye. The power is then refined based on your responses to determine the lenses that allow the clearest vision.
Your optometrist can conduct this testing without using eye drops to determine how the eyes respond under normal seeing conditions. In some cases, such as for patients who can't respond verbally or when some of the eye's focusing power may be hidden, an optometrist may use eye drops. The eye drops temporarily keep the eyes from changing focus during testing.
Using the information from these tests, along with the results of other tests of eye focusing and eye teaming, your optometrist can determine if you have myopia. He or she will also determine the power of any lens correction needed to provide clear vision. Once testing is complete, your optometrist can discuss treatment options.
How is myopia treated?
People with myopia have several options available to regain clear distance vision. They include:
Eyeglasses. For most people with myopia, eyeglasses are the primary choice for correction. Depending on the amount of myopia, you may only need to wear glasses for certain activities, like watching a movie or driving a car. Or, if you are very nearsighted, you may need to wear them all the time.Generally, a single-vision lens is prescribed to provide clear vision at all distances. However, patients over age 40, or children and adults whose myopia is due to the stress of near-vision work, may need a bifocal or progressive addition lens. These multifocal lenses provide different powers or strengths throughout the lens to allow for clear vision in the distance and up close.
Contact lenses. For some individuals, contact lenses offer clearer vision and a wider field of view than eyeglasses. However, since contact lenses are worn directly on the eyes, they require proper care to safeguard eye health.
Ortho-k or CRT. Another option for treating myopia is orthokeratology (ortho-k), also known as corneal refractive therapy (CRT). In this nonsurgical procedure, you wear a series of specially designed rigid contact lenses to gradually reshape the curvature of your cornea, the front outer surface of the eye. The lenses place pressure on the cornea to flatten it. This changes how light entering the eye is focused. You wear the contact lenses for limited periods, such as overnight, and then remove them. People with moderate myopia may be able to temporarily obtain clear vision for most of their daily activities.
Laser procedures. Laser procedures such as LASIK (laser in situ keratomileusis) or PRK (photorefractive keratectomy) are also possible treatment options for myopia in adults. A laser beam of light reshapes the cornea by removing a small amount of eye tissue. The amount of myopia that PRK or LASIK can correct is limited by the amount of corneal tissue that can be safely removed.In PRK, a laser removes a thin layer of tissue from the surface of the cornea in order to change its shape and refocus light entering the eye.LASIK removes tissue from the inner layers, but not from the surface, of the cornea. To do this, a section of the outer corneal surface is lifted and folded back to expose the inner tissue. A laser then removes the precise amount of corneal tissue needed to reshape the eye. Then, the flap of outer tissue is placed back in position to heal.
Other refractive surgery procedures. People who are highly nearsighted or whose corneas are too thin for laser procedures may be able to have their myopia surgically corrected. An optometrist may be able to implant small lenses with the desired optical correction in their eyes. The implant can be placed just in front of the natural lens (phakic intraocular lens implant), or the implant can replace the natural lens (clear lens extraction with intraocular lens implantation). This clear lens extraction procedure is similar to cataract surgery but occurs before a cataract is present.
Vision therapy for people with stress-related myopia. Vision therapy is an option for people whose blurred distance vision is caused by a spasm of the muscles that control eye focusing. Various eye exercises can improve poor eye focusing ability and regain clear distance vision.
If you have myopia, you have a variety of options to correct your vision problem. In consultation with your optometrist, you can select the treatment that best meets your visual and lifestyle needs.