Dr. Wong has over 11 years of experience in Laser Refractive Vision Correction both in the U.S. Army and in private practice. Thousands of our soldiers are better able to function in combat due to their independence from glasses, as well as Police and Fire Department personnel. Dr. Wong is a "Surgeon's Surgeon" and has been entrusted to perform LASEK on other surgeons and physicians.  A prior glasses and contact lens wearer, Dr. Wong himself has been treated with Laser Refractive Vision Correction.
"As both a patient and Eye Surgeon, I personally experienced the benefits of LASEK while on deployment in Operation Iraqi Freedom. My freedom from the burden of glasses gave me much more confidence and ability to face the physical demands and conditions in the desert. I have witnessed how the procedure can have a huge impact on combat effectiveness. I highly recommend it for anyone who is dependent on glasses. It is a life-changing and even a life-saving experience. "
~Doc Wong
"Many Mahalos to Dr William Wong Jr. for this incredible Lasik experience. I am really happy that I am placed in such good hands of Dr Wong. I am now glasses and contacts lens free. I am now able to see the world as if I am watching a high definition picture quality of life.  I am so grateful for Dr Wong and his staff for the amazing care that they have provided me during my pre and post operation visits. Without a doubt, Dr William Wong Jr. of Hawaii Vision Clinic is absolutely exceptional and I highly recommend everybody to trust in this life changing experience with him. Thank you again Dr Wong! "
~ Sabrina Nodine
We are proud to offer the most advanced All Laser LASIK procedures available. Our latest addition of the Intralase Femtosecond Laser virtually eliminates the significant risks associated with traditional mechanical steel blade LASIK. Patient comfort and ease of procedure is greatly increased with this new technology. This technology has become the procedure of choice for NASA, and the U.S. Army, Air Force, and Navy. The VISX S4 Excimer Laser is state of the art with CustomVue Treatment, Eye Tracker, and Iris Registration. A personalized, individual laser profile is created for each patients eye, and is then applied using tracking and mapping software to compensate for any unintentional eye movements. During your initial consultation, we will determine if you are qualified for this latest advancement in LASIK treatment.
The IntraLase® FS laser is a highly precise tool aiding in corneal flap creation, the first step in laser vision correction surgery.  During the procedure, the IntraLase laser fires 15,000 pulses per second into the cornea, where the flap can be created at a depth and diameter determined by the surgeon as appropriate for each individual patient.  In addition to benefiting from this pinpoint (2-3 micron) accuracy, patients who undergo surgery conducted with the IntraLase laser are less likely to need an enhancement (follow-up) procedure than with other technologies.
The following are starting rates for LASIK/LASEK/PRK. Rates are quoted per eye, and are determined by your prescription and individual needs.
| | | | |
| --- | --- | --- | --- |
| | Base Rate | | $2200 |
| | Custom Vue | | $2500 |
| | DOD/Military Dependents | | $1900 |
| | Active Duty Military | | $1800 |
| | Enhancements (after 1 yr) | | $700 |
Our procedure fees reflect our enduring commitment to your vision correction. All evaluations, surgery, and follow up care are provided by the Ophthalmologist. Additionally, should your original correction procedure regress or require further improvement, enhancements will be provided at no additional cost within the first year. (Normal aging process, physical state of the eye, and eye diseases may exclude you from this benefit.)
Photorefractive Keratectomy (PRK) is the orginal laser vision correction procedure performed by the excimer laser. It can be used to correct myopia, hyperopia and/or astigmatism. Drops are placed to numb the eye. The epithelium or outer layer of the cornea is then removed and the laser is used to shape the cornea to correct your vision.
This reshaping of the cornea allows the light rays entering the eye to be focused on the retina, resulting in clearer vision. Since the layer of cornea tissue removed is so thin, the cornea is not weakened. A contact lens is placed on the eye and is left in place until the epithelium heals. This usually takes 5-6 days. Drops and medications are used to help alleviate the small amount of discomfort that usually occur during this healing phase.
The vision starts to improve once the contact lens has been removed and continues over the next 4 to 6 months. Drops are usually used for 3 months or so.
Results are excellent with more than 95% of patients achieving uncorrected vision that is good enough to drive a car. One of the main risks that can affect the results is the possibility of haze development during healing. The risk of this is minimal, but present, particularly in patients with high myopia. If indicated, a medication called Mitomycin C is applied during surgery to minimize this risk.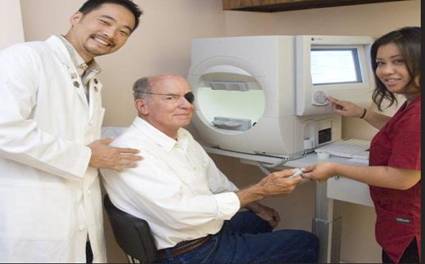 LASEK, or Laser Assisted Subepithelial Keratectomy, is a modification of the LASIK and PRK procedures. After anesthetizing the eye, an alcohol solution is used to loosen the surface layer of cells on the cornea. This layer is lifted and the cornea is treated with the laser. More of the corneal tissue is available for treatment than with LASIK, making LASEK a better choice for patients who require greater vision correction. After treatment the cells are replaced and allowed to heal. A contact lens may be worn for a few days until recovery is complete. Advantages of LASEK over PRK are diminished pain, shorter recovery time and a lower risk of infection.