Laser Cataract Surgery with CATALYS®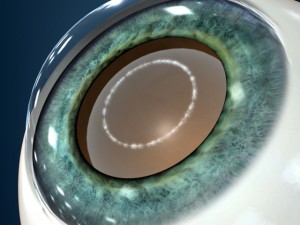 Hawaii Vision Clinic now offers patients the new standard in precision cataract surgery with the CATALYS® Precision Laser System. Using CATALYS, Dr. Wong can provide a gentle, highly customized cataract procedure with precision not achievable with traditional manual techniques. We include this revolutionary procedure with all of our premium lens implants in order to give our patients the most advanced surgery available with the best results and safety profile. It is also an available option for our standard cataract patients as well, allowing us to treat their astigmatism at the same time!
What is CATALYS?
Developed by Silicon Valley-based OptiMedica Corp., CATALYS is a new FDA market cleared medical device that features a state-of-the-art laser, advanced 3D imaging, and many other innovative features that can bring numerous benefits to Hawaii Vision Clinic patients.
How does it work and what are the steps?
Every eye has a unique size and shape. CATALYS' advanced 3D imaging technology builds a 3D map of each eye and tailors the treatment to that map. This enables Dr. Wong to create a customized treatment plan that matches the uniqueness of each eye.
Next, Dr. Wong uses CATALYS to create a circular opening for accessing and removing the cataract. Clinical studies have shown that this opening is approximately 10 times more accurate when performed with CATALYS than what is achievable by hand. CATALYS then softens and breaks up the hard cataract into tiny pieces, allowing for gentler, easier cataract removal.
Depending on the patient's pre-operative vision and desired visual result, Dr. Wong may recommend a tailored treatment plan that could include creating ultra-precise laser incisions in the cornea and a specific clear lens type, such as a multi-focal lens. This tailored treatment may reduce a patient's need for glasses or contacts after surgery.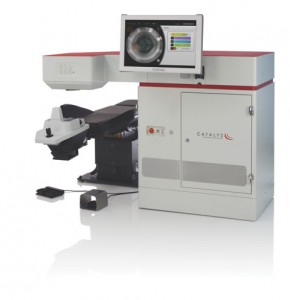 What are the benefits of CATALYS?
A highly customized procedure using advanced 3D imaging
A treatment with little or no discomfort
A more precise treatment
A gentler and easier cataract removal
Generally, a more rapid visual recovery due to reduced inflammation
The opportunity to receive tailored treatment with advanced technology multi-focal lenses, which may reduce the need for glasses or contacts after surgery.
Pan Pacific has access to the global technology that is revolutionizing laser vision correction today for tomorrow. We understand that technological leadership is a must for continued excellence in patient care.
IntraLase  a 100% blade-free technique used to create the corneal flap.  The computer-guided IntraLase laser delivers rapid pulses of light, a quadrillionth of a second each, to a pre-programmed depth and position within your cornea. Each pulse forms a microscopic bubble. As the IntraLase laser moves back and forth across your eye, the bubbles connect to form a corneal flap. Just prior to LASIK surgery, the doctor gently lifts the flap where these bubbles have created a smooth surface.
Click here for IntraLase facts
The VISX STAR platform's heritage of dependability and performance is well known. The STAR S4 IR from VISX has taken that reputation to an even higher level. Our latest excimer laser system represents the most advanced laser technology platform available today. Integrating data collected by the WaveScan/WaveFront System, the STAR S4 IR utilizes these exclusive VISX technologies to deliver precision custom ablations:
Iris Registration (IR): The first FDA-approved, fully automated, non-contact method of alignment of the correct CustomVue treatment to the corneal site;
Variable Spot Scanning (VSS): Variable beam sizes from as small as 0.65 mm up to 6.5 mm scanned over the treatment area, conserving tissue and optimizing treatment times;
Variable Repetition Rate (VRR): VRR delivers treatment at varying repetition rates, optimizing treatment time;
ActiveTrak 3-D Active Eye Tracking: Captures all 3 dimensions of intra-operative eye movements no dilation required; and ActiveTrak Automatic Centering: Locates, and then automatically sets the treatment center to the center of the pupil.
Laser Vision Correction is now FDA approved to treat Myopia, Hyperopia, and Astigmatism.
The U.S. Food & Drug Administration has approved CustomVue treatments, establishing a new standard for the correction of nearsightedness (myopia), farsightedness (hyperopia) and astigmatism.
You may have heard CustomVue treatments referred to as "custom LASIK" or "wavefront LASIK." CustomVue treatments use WaveScan technology, originally developed to reduce distortions in high-powered telescopes, to:
Measure imperfections in your eye 25 times more precisely than standard methods;
Produce a detailed map of your eye, as unique as your fingerprint; and
Generate digital information which is transferred directly to the laser used in your procedure, to provide a new level of precision and accuracy.
In addition, the CustomVue procedure uses Iris Registration Technology, the first fully automated method of aligning and registering wavefront corrections for CustomVue treatments. This non-contact method of aligning the treatment to the cornea provides greater alignment accuracy.
With CustomVue treatments, your doctor can measure and correct the unique imperfections in your vision. As shown in FDA clinical studies for treatment of myopia, hyperopia and astigmatism, the CustomVue procedure can produce better vision than is possible with glasses or contact lenses.
Is the CustomVue Procedure for You?
Treatments are available for a variety of patients, including those with astigmatism, whether the astigmatism is associated with nearsightedness, farsightedness or mixed astigmatism. As a result, more than 92 percent of the U.S. population that requires vision correction, 21 years of age or older, are eligible for this life-altering procedure.
Treatments are now available for people with:
Myopia (nearsightedness)
Myopia with astigmatism
Hyperopia (farsightedness)
Hyperopia with astigmatism
Mixed astigmatism
People with "mixed" or "irregular" astigmatism have vision that is often difficult to correct with eyeglasses or contact lenses. As shown in an FDA clinical study, with CustomVue treatment these individuals now have the potential to achieve better vision than is possible with glasses or contacts. CustomVue treatment offers the broadest range of wavefront-guided treatments available.
Additional information on our lasers is available at: