William K. Wong, Jr., M.D.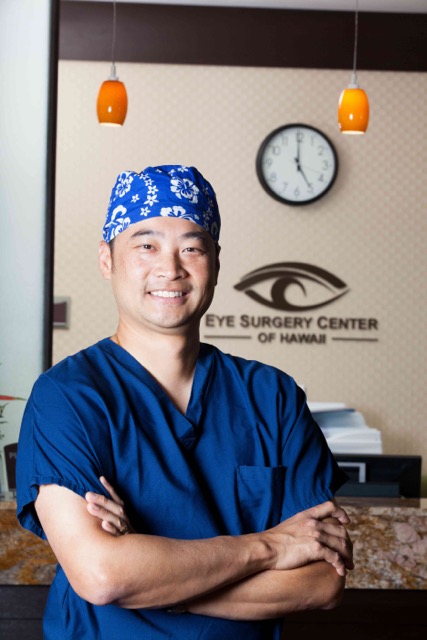 is Board-Certified by the American Board of Ophthalmology, and is consistently voted one of the "Best Doctors in America" and "Hawaii's Best Doctors" by Honolulu Magazine and Pacific Business News.
A local boy who graduated from Punahou School in Honolulu, he received his medical degree from Jefferson Medical College in Philadelphia, Pennsylvania after completing a B.S. in Mechanical Engineering from Santa Clara University and biological science studies at the University of Hawaii in Honolulu.
His post-graduate training includes a military internship at Tripler Army Medical Center, and Ophthalmology residency at the premiere Brooke Army and Wilford Hall Medical Centers in San Antonio, Texas.
Notably, Dr. Wong has served as an Ophthalmologist in the U.S. Army for over 8 years. He completed a number of certifications in basic and medical training for the U.S. Army during his service, including training in Combat and Casualty Critical Care, Cataracts, Humanitarian Assistance Relief, Ocular Pathology and Ocular Trauma.
Dr. Wong was deployed three times, including spending five months in Baghdad as a Battalion Surgeon with Operation Iraqi Freedom. His other deployments include the Mobile Ophthalmologic Surgical Team in Honduras and the Ophthalmology Medical Mission in Tamaulipas, Mexico. Dr. Wong left the Army as a Major in the U.S. Army Medical Corps and served as Chief of Ophthalmology at Irwin Army Community Hospital, Fort Riley, Kansas. As a result of his interest in Laser Refractive Surgery, he initiated a program enabling him to treat hundreds of soldiers with Laser Vision Correction.
"As both a patient and Eye Surgeon, I personally experienced the benefits of LASEK while on deployment in Operation Iraqi Freedom. My freedom from the burden of glasses allowed me to focus on the mission in the desert. I have personally seen that the procedure can make a huge impact on combat effectiveness."
Dr. Wong's is a Past President of the Hawaii Medical Association, Honolulu County Medical Society, Hawaii Ophthalmological Society, and holds a faculty position as Assiociate Clinical Professor in Ophthalmology at the UH John A. Burns School of Medicine. His professional memberships include the American Board of Ophthalmology, the American Academy of Ophthalmology, the American Society of Cataract and Refractive Surgery, and the Association for Research in Vision and Ophthalmology.
Dr. Wong has co-authored research publications on corneal wounds and ocular trauma, has presented his research at meetings and symposia internationally, and has completed a number of certification courses:
Nidek EC-500 EXCIMER Laser Certification
LADARVision EXCIMER Laser Certification
VISX STAR EXCIMER Laser Certification
Alcon Resident Education Course
Bausch & Lomb C-LASIK Certification
Lancaster Ophthalmology Basic Science Course
Alcon ReStor Intraocular Lens Certification
Alcon Toric Intraocular Lens Certification
AMO ReZoom Intraocular Lens Certification
AMO Intralase Femtosecond Laser Certification
Dr. Wong has achieved a high degree of success in the medical field in his research and practice as well as his military service. Affirming this success are the many honors and awards he has received:
Combat Medic Badge
Global War on Terrorism Medal
Global War on Terrorism Expeditionary Medal
Overseas Service Ribbon
National Defense Service Medal
U.S. Army Achievement Medal
Resident's Award – "Ocular Trauma from High-Pressure Water Cannon Toys" (Society of Air Force Clinical Surgeons, Annual Meeting 1999)
Resident's Award – "Ocular Trauma from High-Pressure Water Cannon Toys" (USUHS Post-Graduate Course in Ophthalmology, Annual Meeting 1999)
Medical School Scholarship – United States Army Health Professions Scholarship Program, 1993-1997
State of Hawaii House of Representatives Commendation – for volunteer efforts in the 1991 Aloha Medical Mission to the Philippines.
Voted as one of the Best Doctors in America 2011-2012
Voted one of Hawaii's Best Doctors by Honolulu Magazine 2011
Assistant Clinical Professor of Ophthalmology at the University of Hawaii John A. Burns School of Medicine
Dr. William K. Wong, Jr. continues to pursue excellence in his medical career in his private practice in Hawaii. He dedicates his skills to the care of his patients, adding to his considerable achievements and contributions to the field of medicine.
(Please note that Dr Ing is available only in our Honolulu Office.)
was born and raised in Hawaii. He is a comprehensive family ophthalmologist with special training in the diagnosis and treatment of eye problems in children especially crossed or drifting eyes.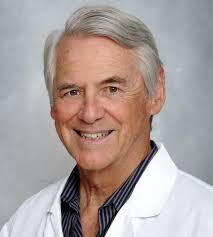 Dr. Ing received his pre-medical training from Harvard University, graduated from Yale Medical School and completed his Ophthalmology training at Yale University. He completed a Fellowship in Pediatric Ophthalmology at Children's Hospital under the direction of Dr. Frank Costenbader and Dr. Marshall Parks who was voted one of the ten most Influential Ophthalmologists of the 20th Century in Washington, D.C.
Dr. Ing enjoys teaching at the John A. Burns School of Medicine at the University of Hawaii and serves as clinical Professor and Chair Emeritus of the division of Ophthalmology.
Dr. Ing has also received national and international recognition for his work in Pediatric Ophthalmology and the treatment of crossed eyes (strabismus). He has published over 60 scientific articles on these subjects and is listed in Best Doctors in America (since 1992) and also listed in Honolulu Magazine's Best Doctors in Hawaii.
In his spare time, he enjoys surfing and won the  Hawaii State Surfing Championship in the Legends Division in 2003 and 2004. Dr. Ing also has had a lifelong interest in painting and at one time was interested in pursuing a career in art.
His father, also a physician, advised him to pursue surgery as a career instead, saying, "You can be an artist with your surgery and make your patients look better as well as helping them to function in life."
More information on Dr. Ing can be found at MalcomIngEyeMD.com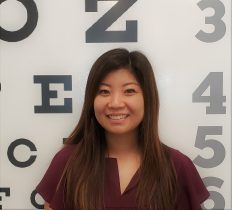 Following in her father's footsteps, she is a second-generation Doctor of Optometry.  Born and raised in Hawaii, she is an Alumna of Iolani School.
She graduated from the University of Washington with a degree in Environmental Health and was awarded her doctorate from Southern California College of Optometry.