Cataract Surgery in Honolulu & Oahu Area – Hawaii Vision Clinic
Cataracts are a part of the natural aging process. Over time, the cells in the natural lens of the eye become more opaque and cloudy. There are many different types of cataracts – all resulting in changes in the lens and blurry vision. Some patients compare it to looking through a hazy fog, or shower door. Lifetime exposure to UV light, certain drugs, environmental toxins, and smoking can all cause cataracts to progress faster. Once they have developed, the only treatment is a surgical procedure. Cataracts should be removed when they are advanced enough to cause visual limitations, prevent adequate examination of the eye, or cause other eye diseases like glaucoma or inflammation.
More info on cataracts and cataract surgery are available eyeSmart.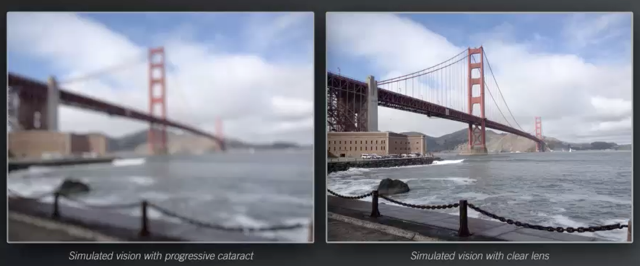 At Hawaii Vision Clinic Dr. Wong offers:
Laser assisted Cataract Surgery
For premium lense surgeries Dr. Wong utilizes the
CATALYS® Fempto Second Laser to assist in making your cataract surgery safer and faster,
ORA System™ Technology to achieve better results,
Cassini Technologies digital cataract suite for improved accuracy.
Such as the TECNIS SYMFONY® IOL and Synergy® IOL
LAL the Light Adjustable Lens
The RxSight™ Light Adjustable Lens is the first and only intraocular lens (IOL) that can be customized after cataract surgery. The Light Adjustable Lens is made of a special photosensitive material that can be adjusted in response to ultraviolet (UV) light. This optimization is done by your eye doctor in the weeks following lens implantation through a series of non-invasive light treatments that take only a few minutes each. You will have the unique ability to adjust and preview your vision until it meets your personal desires and lifestyle requirements. The Light Adjustable Lens delivers superior vision outcomes that non-adjustable IOLs cannot match.
Astigmatism causes blurry vision, often seen as shadows, or fuzzy images. Glasses or contacts are the usual treatment for astigmatism. Traditionally, surgical correction of astigmatism required making a series of small incisions (called LRIs) around the cornea to make it more round instead of football-shaped. Standard cataract surgery does not correct astigmatism, and glasses or contacts are usually still required to achieve the best vision.
The advanced technology behind the AcrySof® IQ Toric Intraocular Lens (IOL) offers a combined solution, not only replacing your cataract-clouded natural lens for clear vision, but also correcting corneal astigmatism, so you can see in focus.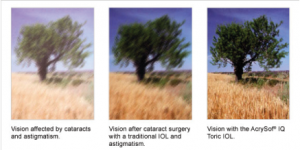 Quality Distance Vision — Unhindered by Cataracts and Astigmatism
The technology behind the AcrySof® IQ Toric IOL offers cataract patients with preexisting astigmatism precise vision correction that reduces or eliminates corneal astigmatism and delivers significantly improved distance vision without the need for glasses or contacts. You'll also be able to enjoy improved image quality thanks to the lens' new aspheric design. Toric IOL patients have reported having better vision than ever before even with their glasses or contacts.