What is the difference between LASIK and IntraLASIK?
LASIK or "Laser assisted in situ keratomileusis" is a procedure which uses an excimer laser system to reshape the stroma layer lying under the surface of the cornea.
In conventional LASIK, an automated microsurgical device called a microkeratome uses a surgical blade to create a thin flap on the surface of the cornea. The corneal flap is then laid back and the excimer laser reshapes the stromal layers of the cornea according to the patient's eye prescription. Once the laser has been applied the flap is closed and the laser procedure is complete. The procedure usually takes between 10 to 15 minutes, with the actual excimer laser treatment taking 15-90 seconds to perform.  LASIK patients experience virtually no pain or discomfort. Most LASIK patients can normally see well enough to drive a car the next day and healing is achieved within one to three months.
We are proud to exclusively offer 100% blade-free advanced all laser IntraLASIK procedures. Although a bit costlier in price, the Intralase Femtosecond Laser virtually eliminates the significant risks associated with traditional mechanical steel blade LASIK. Patient comfort and ease of procedure is greatly increased with this new technology. This technology has become the procedure of choice for NASA, and the U.S. Army, Air Force, and Navy. The VISX S4 Excimer Laser is state of the art with CustomVue Treatment, Eye Tracker, and Iris Registration. A personalized, individual laser profile is created for each patients eye, and is then applied using tracking and mapping software to compensate for any unintentional eye movements. During your initial consultation, we will determine if you are qualified for this latest advancement in LASIK treatment.
The IntraLase® FS laser is a highly precise tool aiding in corneal flap creation, the first step in laser vision correction surgery.  During the procedure, the IntraLase laser fires 15,000 pulses per second into the cornea, where the flap can be created at a depth and diameter determined by the surgeon as appropriate for each individual patient.  In addition to benefiting from this pinpoint (2-3 micron) accuracy, patients who undergo surgery conducted with the IntraLase laser are less likely to need an enhancement (follow-up) procedure than with other technologies.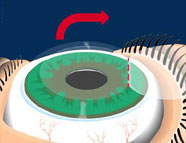 Step 1:
The doctor creates a thin flap at the top of your cornea which is lifted away, but remains attached at one side.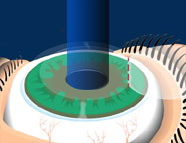 Step 2:
The excimer laser, already programmed to correct the degree of refraction, evaporates a microscopic layer of tissue. This part of the procedure takes between 15 and 90 seconds.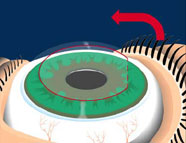 Step 3:
The flap is put back into place and, because of the eye's natural bonding properties, healing starts immediately. No stitches are required. The entire process takes about one hour after which a patient may return home.